I didn't make it to the Utility Day on the 30 June due to a head full of goobies and a sandpaper throat. According to Graham Alcock the day was alright until lunch time when the breeze dropped right out. Thanks for that in depth report Graham.
.
On Wednesday I got a call saying that it wasn't worth coming up. Everyone was standing around looking at the water. No-one was brave (silly) enough to put a boat in. What do you do when the dam is too blowy for sailing? You go slot-car racing, obviously. Bob Watson took the crew to his house and they had a go at catching Bob. Fat chance when he has got the controllers rigged.
.
This Saturday I slept in a bit and then called Bob Tuohy to see what conditions were like. According to Bob there were clear blue skies and the wind was very sailable. As I walked out to the car through a gale with horizontal rain I wondered if Bob was pulling my leg. As it turned out he wasn't. Conditions were a bit trying at times and gusts managed to throw several boats together with mixed results on separating them.
.
Three A Class boats competed. I didn't have time to get the trailer etc. hooked on after I slept in.
.
Congratulations to Peter White on a commanding performance to take first place from Bob Watson. At times Peter's A Class looked more like an 18 footer.
.
Bob managed to mangle his super heavy duty steering servo in one race. Easy on the tiller Bob. I'm not sure but I think he had a battery problem with his other DNF.
.
Brian had his moments.
.
.
Results panned out the same on Corrected Time.
.

.
Of the two Marblehead skippers, Tony White prevailed for top honours. Well sailed Tony and that boat is a flyer. It is good enough that you have now taken the gun sailor position for the Club. Pity about your start place for stern chasers.
.
John Lykke's B rig was competitive, just not competitive enough.
.
Both skippers scored a DNS/DNF for Race 8. They were too busy untangling their yachts from each other. At least they kept it in-house and didn't take out other classes. Very gentlemanly of you guys.
.
.
John Lykke reversed the scores on Corrected Time. Well sailed John.
.

.
And now the big competition.
.
Bob Dare topped out the Foci by a mere three points. Onya Bob.
.
David Draper put in a great performance for a rank beginner, with a slight bit of coaching from Graham Alcock. Graham originally was going to sail Bob Dare's IOM with its' new B rig. Graham broke it. Before he complete a single race. Now I feel better about grounding Bob Watson's Marblehead and de-rigging the jib. David was interested enough in the results that he came asking about them at the end of the day. Maybe we have someone new hooked. I hope we see you back David.
.
Geoff Smith was going great guns until the crew mutinied and made a break for Meadows. He almost set a new record for a grounding furthest from the Club. That record is still held by Peter Scapens (only just) from when he grounded on the northern side of Meadows Island. It was still a fairly long walk wasn't it Geoff? If Geoff had managed to get sailing again for the last race, a third place would have had him tied with David Draper. He would then have placed second on count-back. A second place in Races 9 and 10 would have had him tied with Bob Dare. Close racing guys.
.
David Hyde came in, surveyed the conditions and aced his first race. Sensing a lack of competition he backed off for the next couple of races before retiring. Your story and you're stickig to it, eh, David?
. 

.
David Draper took Corrected Time from Bob Dare on count-back.  Good one David. Tough toe-nails Bob.
.
Geoff Smith was right on the pace until his boat took off with sails beautifully set and drawing well. A pity that he had no control over it. Have you ever considered vane sailing? Again, a third place in the last race would have seen a three way tie on 16 points and a second place on count-back.
.
A pity that David Hyde didn't sail a bit longer. He only sailed three races and was only 12 points off the lead. A full run of firsts would have looked good.
.

.
Oops, nearly forgot the new correction factors.
.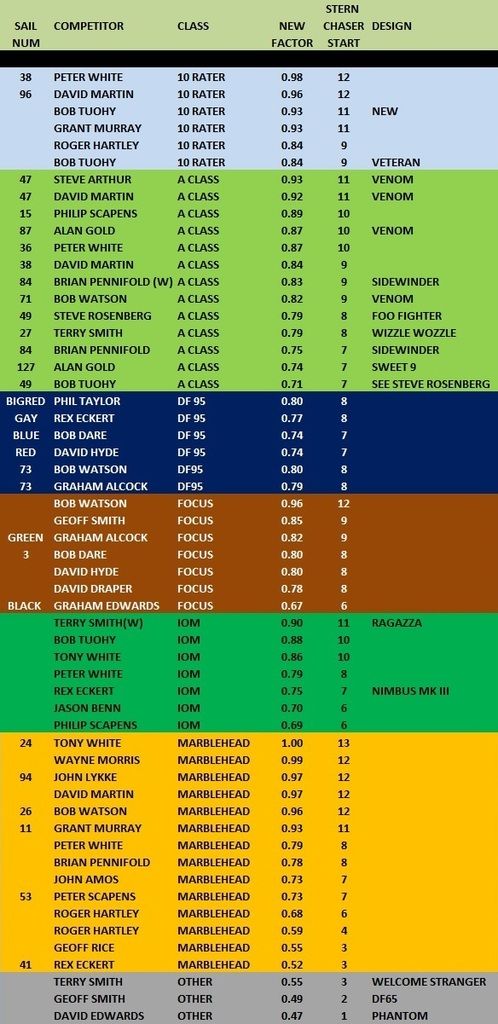 Categories: None