What a beautiful day to build sand castles! We even had a 4 year plus one day old to christen the sand pit. After digging around with an old tree branch and a stainless steel cup and then seeing the baby swallows he decided that he wanted to come out again. Hook 'em young before they get into computer games.
.
We had the usual Foci plus a couple of ring-ins. Congtatulations to Graham Alcock on his narrow Line Honours win.
.
A big well done to Bob Dare who, despite scoring as many firsts as Graham, finished in second place. Were it not for a couple of tactical errors close to the finish line, Bob could have knocked Graham down a spot. As usual Bob saved his worst for last. Probably losing concentration while anticipating his chiro visit.
.
Bob Tuohy once again proved that there is many a fine tune played on an old fiddle by rounding out the podium, two points behind Bob Dare.
.
Graham Edwards started off with a roar and, despite the appearance of the Line Honours score-line, sailed well through the day.
.
Adriaan Sakko had his moments. Unfortunately the breeze did not favour his boat on the day.
.
David Hyde sailed a couple of races and then dropped back to the spectator mode. Nothing wrong with that. Whatever floats your boat.
.
.
At the dam, I think I said that Bob Dare had won the Corrected Time. However, it turned out that I had incorrectly given him two discards. While the sand was being delivered I was unable to get times for the first two races. Hence the Corrected Time was only scored over Races 3 to 9 which only allowed for one discard.
.
Ta Da!! Well done Graham Edwards. A just reward for your improvement over the year.
.
To Bob Dare............Ya, Boo, Sucks. You should have gone for the extra race.  Second on Line Honours AND Corrected Time. Too bad Bob, but a great result.
.
Bob Tuohy also did a double by placing third on both finishes.
.
Graham Alcock just scraped in ahead of Adriaan Sakko.
.
Again, David Hyde provided the commentary.
.
.
So, how did all of this affect the Correction Factors?
.
Graham Alcock, being the gun sailor for the day, stayed exactly where he was.
.
Bob Dare shifted from 0.81 up to 0.91.
.
Graham Edwards was the big mover by shifting from .68 to 0.84.
.
Bob Tuohy sailed exactly to his Factor with respect to Graham Alcock and stayed right on his 0.89
.
Adriann Sakko is now rated at 0.83 which looks a bit high but that is how the numbers panned out. Future races will refine this.
.
David Hyde didn't sail enough races to get re-rated.
.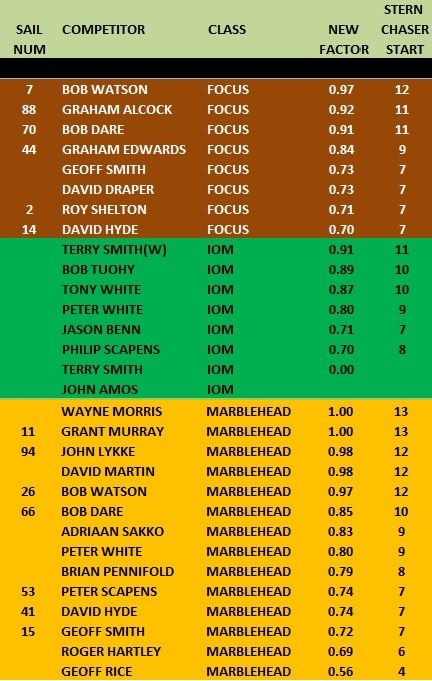 .
It is Marblehead/10 Rater on Saturday. I may not be there as I've got a grandson's birthday party to go to at some stage of the day. Whoopee!
.