TOILET FACILITIES
.
Our toilet is almost ready to be re-commissioned. Mark kindly did our digging for us. We figured that the hole was deep enough when some Chinese guy at the bottom of the hole started complaining that the water was draining out of his rice paddy.
.
We might ask The Toad to cut the ribbon at our AGM.
.
DOCKLANDS
.
While Mark had his Tonka Toy there he also re-arranged some of our beach in order to dredge ot Brian's Channel. When the water comes back Brian's Channel will again be available for navigation. We'll get Brian to cut that ribbon.
.
We will be building a wharf area for the launching and retrieving of A Class boats. The Club has a couple of sleepers but more are needed. Before we go out and buy some, does anyone have any sleepers - timber or concrete - that they can spare?
.
Just a heads up on the calendar.
.
03 MAR 2019
.
Philip Scapens has managed to fit us into his VERY busy schedule. Our Annual Function will be at his house, 12 Hume Street, Seaview Downs on 03 MAR 2019. The Club will supply the meat and members are asked to bring a salad or a sweet. Philip has promised even more spectacular entertainment than his last Fire and Light show. Thanks for the venue Philip.
.
30 MAR 2019
.
Our AGM will be held at the dam on this Utility Day. Following the AGM we will continue with some Novelty Races and maybe even some prizes.
.
06 APR 2019
.
This A CLass day has been nominated as a Ranking Event. Scores from this are sent to ARYA for National Ranking. There will only be A Class boats on the water. Despite this there will be plenty to keep other Club members interested and involved. Come, watch, learn. Being an A Class day there will also be the usual BBQ.
The bio-diversity of Paris Creek has been compromised by the introduction of an invasive species - Cyprinus Carpio. This beast is more commonly known as the European Carp.
.
Thankfully our Club has an ecologist/greeny who has made it his task to rid our section of Paris Creek of this blight on Australian waterways.
.
Bob Tuohy has fearlessly attacked the Carp population with his fishing skills, gradually whittling away at the stranglehold that they have. The size of these beasts can be quite monstrous. They can also be quite sneaky. Unknowingly, Bob latched onto a monster that moved away slowly and dragged his tackle, rod, reel and all, into the dam without Bob noticing.
.
The first hint of the drama that was about to unfold was when a strange object started floating away from the bank. This was the handle of Bob's rod which was, luckily, floatable. On realising what was happening, David Draper went into the water like a Bondi life-saver. Unfortunately he startled the denizen and it took off before David could reach the handle.
.
The monster from the deep then proceeded to swim around the dam to show off his prowess in buggering off with a rod. Several boats tried to catch the rod on tneir keels but this was ineffective. The breeze was so slight that even if they had snagged it, they would not be able to drag it back to shore.
.
The boats dropped away as the rod approached Eastern Island leaving only Bob's boat trailing after the rod. The rod came to a halt just off the western bank of Eastern Island and Bob very cunningly got his boat snarled on the island too.
.
Time for me to do my Steve Irwin act. After a neck deep stroll over to Eastern Island I did a catch and release on Bob's boat. Then things got messy. There I was with a potential man-eater lurking about the submerged tree roots.
.
'Crikey" I thought 'this may not be the best idea that I've ever had.' I retrieved the rod and passed it to Bob who was bravely watching from the bank. I then commenced tracing my way back to our aquatic nemesis by following the line. It ran over and under several snags before I ran out of slack. Then began an enormous struggle as I battled against the severely tensioned line. Just when I thought 'Crikey, if I have a heart attack right now things may be not very good' there was a sudden rush of line towards me.
.
The line had snapped right at the hook. I reckon the wily beast had stuck the hook into a snag and buggered off, chuckling, while I fought against a tree root.
.
Curse you foul, slimy beast of the depths. You haven't seen the last of me!
.
Our first A Class day of the year and we got what we really didn't need. No BBQ. We were unsure of how many would turn up and so cancelled it for the day. Apologies to Peter White who was shrinking noticeably through the day due to lack of nourishment.
.
We also could have done without the wind from a vary rare direction for us - approximately SSE. This brought the wind from behind the shed and through all of the trees along the road. One might call the wind 'variable'. It was certainly very trying.
.
My A Class almost made it to the start line of the first race when my winch snarled and turned the spring into a very long, skinny corkscrew. Oh dear! I just had to be PRO again.
.
David Martin made it through two races before he decided that corkscrews were the go and did the same thing. At least he got on the board.
.
Congratulations to Tony White on taking Line Honours in a masterful display of sailing. It was an inspirartion and education to watch. I tips me 'at to yer sire.
.
Peter White had to be content to play second fiddle to Tony, but put in a great day's sailing regardless. Well done.
.
Brian Pennifold put in his usual solid performance to round off the podium.
.
As previously stated, David had to console him self with the acquisition of a new corkscrew. Honestly David, I had nothing to do with it. I wasn't even handicapping.
.

.
The positions were identical on Corrected Time. Congratulations to Tony White. It's a pity what it did to your Correction Factor.
.

.
We had a good turnout of Marbleheads and Bob Tuohy's 10 Rater. Congratulations to Buoy's Toy on taking Line Honours. It was pretty spectacular when she did the occasional planing run.
.
Grant Murray and John Lykke rounded out the podium with only 4 points separating first and third. Well done all.
.
Geoff Smith had what appeared to be one of those days. Thinga are not always what they seem.
.
Bob Dare was having a good tussle with Geoff Smith until he had to leave.
.
.
Congratulations to Bob Tuohy for winning Corrected Time as well. Look at your new Correction Factor!
.
A big well done to Geoff Smith. What appearerd to be a so-so day on Line Honours turned out not bad at all on Corrected Time. There was a minor upgrade in your Correction Factor but nothing to worry about.
.
Grant Murray and John Lykke sailed pretty well to their handicaps to finish in a draw. Grant won on count-back. Congratulations to the both of you.
.
Bob Dare started off fine but his early retirement shot him down. Next time Bob.
.

.
For the mixed fleet, I deducted one minute from all of the second division boats in order to get a proper result.
.
Woo Hoo! Tony White's A Class beat Bob Tuohy's 10 Rater, but only by 4 points. Looking back at the aggregate times for the day with no discounts, Tony was only 54 seconds ahead of Bob. 5.4 seconds per race average. Tony won six of the ten races. Well done to the pair of you.
.
Grant Murray did well too, reaching the bottom step of the podium only six points behind Tony. Onya Muzza.
.
John Lykke missed the podium by three points. Bad luck John.
.
Peter White brought the second A Class home in fifth place overall.
.
A bit further back were Geoff Smith and Brian Pennifold.
.
Even further back were the truant Bob Dare and bottle-opener David Martin.
.

.
Bob Tuohy won the Fleet Corrected Time with a fairly clear lead. Pity about the Correction Factor.
.
Yaaaay, Geoff Smith placed second in the Fleet. Well done Geoff. You beat Tony White by one point!! Well done to the two of you.
.
Big OOPS by me. I just noticed that Peter White and grant MurrayMurray tied for fifth place and Grant actually won on count-back. The results below need to be mentally corrected as I can't be bothered with all of the hassle of going back and changing the pictures on PhotoBucket.
.
Bob Dare, Brian Pennifold and Mr Squiggle rounded out the fleet.
.

.
And so to the New Correction factors. We have a new gun sailor.......Tony White has brought the A Class back to the top of the board. The last person to do this was Steve Arthur. Tony's new Correction Factor at the end of the day was 1.02. Everybody had their Factor divided by 1.02 to bring our top boat back to the 1,00. This managed to sneak a couple of sailors down one Division on the Stern Chaser. Well done Tony. Just wait for the next Stern Chaser if you're willing to run the A Class in it.
.
The other biggish jump was Bob Tuohy whose10 Rater is only 0.01 behind Tony.
.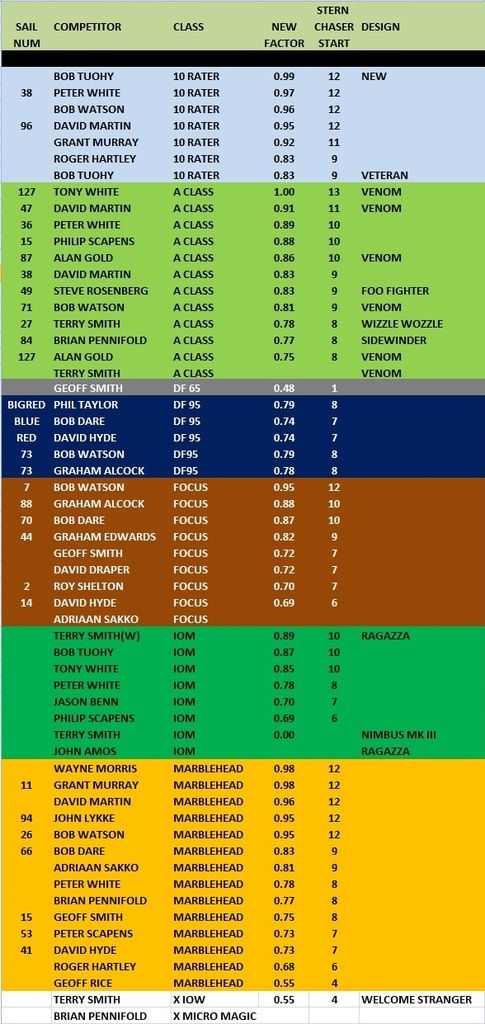 .
Thanks all for a good and entertaining day.
.
It is with sadness that I inform the Club that Past Commodore Don Smith passed away in his sleep 14/15 JAN 2019.
.
I will let Club members know more details as they become available.
.
Due to the forecast temperature for this Wednesday, there will be no sailing at Paris Creek.