Unfortunately I couldn't make it. About a month ago my youngest son organised a kayak trip down around Hindmarsh Island. About a month ago he organised for us to baby sit. Two days before the trip he decided that he had better organise a car with a tow-ball to pull the kayaks down to Hindmarsh Island. Guess who?
.
Thanks to Graham Alcock for running the day and getting the results to me.
.
It was a great day to be sitting in the shade (next to an esky) with a nice breeze off the dam. Great sailing conditions. I have attached a shot of the results board for Wednesday 13thDecember.
.
Also attached is a shot from the last race. We were trying to catch up with that bloody Duck all morning. He was absolutely flying at times, I suspect he may have snuck past us on handicap. Tilly was the only one that got close.
.
It was clear that Duck won the day With Bob & Graham drawing for second place.
.
Besides which, I still reckon that Duck touched that last buoy!
.
Cheers Graham A
.
Congratulations to Duck (nickname?) (visitor from another club?) (potential new member?) on taking the day. Apparently his results were so overwhelming that they didn't even bother listing him on the board. Eight races, eight firsts, two discards, six points. What can I say?

.
In the event of a tie that cannot be decided on countback, the decision goes to the highest placed competitor in the last race. Congratulations to Bob Tuohy for taking second place.
.
An unfortunate, but close, third place went to Graham Alcock.
.
The remaining competitors had an unfortunate day. Their scores all tied and were the same for every race. They cannot be separated on count-back or last race positions.
.
It seems that Bob Dare hasn't got his winch sorted out yet. He was unable to make it to the start line for three races. Of the remaining five races, he failed to finish three and got disqualified out of two. Oh dear.
.
Bevan Newman also failed to start three of the races. He DNFed a further two and wore three disqualifications. What were you doing Bevan? Playing Dodge'em cars?
.
Terry (?)  had even bigger problems getting to the start line, missing it in four races. Two DNFs and two DSQs rounded out his day.
.
Graham Edwards only missed one start. Well done. Of the six remaining races he DNFed two and racked up four disqualifications! What were you thinking about Graham? Obviously not the rules.
.
Geoff Smith managed to miss only two starts. He blotted his copy-book with three disqualifications. One of his three DNFs was in the last race which shows that he managed to stay for the whole programme. He must have finished moving all of his furniture.
.
David Hyde had a reasonable day. He only missed two starts. He only had two disqualifications. If it weren't for the four DNFs he would have had a great day. 
.
.
Photographic evidence from the last buoy.
.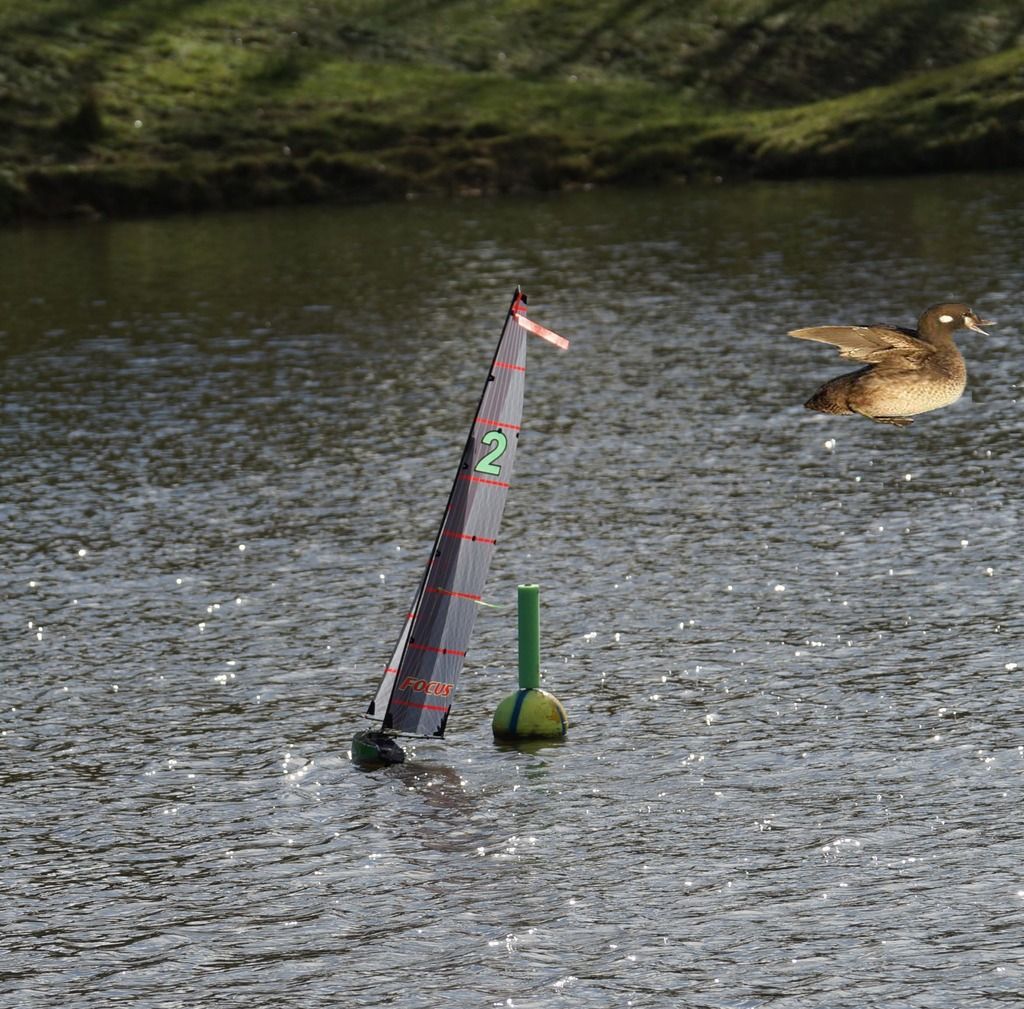 Here it is, mid December. My, how time flies. It seems like it was only last week that we had our last A Class day. Well it was last Friday, actually, but you know what I mean. I suppose that I had better get the results up
.
We had a magnificent day with a breeze that settled in to give us the best sailing conditions that I can remember over the last eighteen months, at least.
.
Brian Pennifold put in the best performance that he has in ages and took the A Class Line Honours quite comfortably. Congratulations Brian.
.
Terry Smith started out with below average results. He had a mainsail that looked like Mrs O'Flaherty's washing on a Monday morning. The intention was to address the problem at the lunch break - usually just after race 4 or 5. The buggers wanted to sail through. Had enough by the end of race 6 and brought the beast in for rectification. Wizzle Wozzle has the main sheet feeding through one of those ring arrangements that are located by various lines going to the deck. When one of those lines parts, everything goes upside down pear shaped and you get the afore-mentioned washing impersonation. Results improved from race 7 onwards.
.
.
Brians' mastery of the day continued in the Corrected Time with an even more comprehensive victory. Keep it up and you'll win the Club and State Title next year.
.
.
In the Marbleheads there were only six races scored as all boats retired after Race 6. Of those six races, there was only one in which both boats competed. Well done John Amos, a win's a win.
.
Geof Rice did a 'Collingwood premiership' in losing by a single point.
.
.
Geof Rice sailed magnificently against his handicap to win on Corrected Time. Well done Geof,
.
Can't win them all John.
.
.
Bob Tuohy took out the Line Honours and Corrected Time in the 10 Raters. Or, rather, 10 Rater.
.
As usual, the Foci provided the biggest fleet. As per the Marbleheads, the racing finished at the end of Race 6.
.
Bevan Newman won the Line Honours by one point from Graham Alcock. Bevan continued for the whole ten races. If it had been scored to the ten, Bevan would still have won but with a larger margin. Well done Bevan.
.
Graham Alcock retired with a bung winch. The problem corrected itself at home after re-binding. Good thing he didn't re-bind at the dam, eh Bevan.
.
Bob Dare narrowly avoided winning the wooden spoon. I seem to recall that he had a winch problem as well. Luckily Geoff Smith had another of his urgent errands and had to leave after Race 5 otherwise Bob would have been getting tongue splinters with his Weet-Bix.
.
.
Congratulations to Bevan Newman on doing a daily double and taking the Focus Corrected Time as well.
.
Bob Dare took second place from Graham Alcock on count-back.
.
Geoff Smith retained his place from the Line Honours.
.
.
Chuck them all in the Lightburn concrete mixer and Bob Tuohy won the Mixed Fleet Line Honours. Well done Bob with the antique 10 Rater with the duct taped sails.
.
Brian Pennifold came in for a well deserved second place, with the other A Class taking third.
.
Bevan Newman sailed a gallant fourth place, just one point off of knocking the behemoths over. Good sailing.
.
DNFs from there down made scores irrelevant. It was, however, a great days' sailing in good company.
.
.
Congratulations to Brian Pennifold on taking the Mixed Fleet Corrected Time.
.
I should have brought my boat in earlier and fixed that main sheet ring. C'est la vie.
.
Bevan Newman put in a good fight to take third place from Bob Tuohy by two points.
.
And then came the DNF crowd. At least most of them stayed until the end to spectate. Some people will do anything rather than chase the Victa around the back yard taking the tops off of dog turds.
.
This Saturday is the last Sausa..........I mean A Class day for the year.
.
Be there.
Seven Foci vs a 10 Rater and a Ragazza - what a majority!
.
The starts were pretty amazing. The first buoy rounding was pretty horrific. You'd have thought that they all had Italian boats, not just me. And I don't mean gondolas.
.
Well done Graham Alcock for taking out the Line Honours, again. I can't remember why you DNF'd Race 6 but it didn't matter in the end. I might have missed you due to scoring and sailing at the same time.
.
Commiserations to Bevan Newman. I knocked him down to third place on count-back. It took me until Race 7 to work out why I was having sheeting problems. If I had waited until Race 8 Bevan may have got the silver.
.
Bob Tuohy would have scored higher had he not got tied up with two blasts from the past. Foundation Member Kevin Middleton dropped in with Don Smith to say hello.
.
Bob Dare had a mixed bag of results. Over the run of 10 races, he managed to get every score possible from first to eighth, except for a second. Talk about dodge and weave.
.
The rest of the field had an 'off' day with the exception of a few races. David Hyde and Graham Edwards started with a roar by taking first and second in Race 1 and then sort of petered out. Geof Rice missed the first two races and then took another two to get into a groove for mid-field finishes and Geoff Smith was also running mid-field until he had to leave on another of his early afternoon chores.
.
.
Graham Edwards took out the Corrected Time. YAY Graham! Everyone around to the Edwards house. Graham's shouting.
.
Bevan Newman trailed Graham by seven points as did Geof Rice trail Bevan by the same margin.
.
One point further back was Graham Alcock. See. Told you so. You don't get to win Line Honours AND Corrected Time too often.
.
Bob Dare continued with a middle of the road performance and still managed to beat me by seven points.
.
Geoff Smith would have finished up quite well if he didn't have that big string of DNF's dragging him down.
.
Bob Tuohy was just too busy talking.
.
David Hyde went home to fix whatever it was that broke on his boat. Apparently it would only do left hand turns. Or was it right hand turns? Whichever it was, it was the opposite of the direction required to get around our course. If it was a speedway track he would have been fine.
.
.
Very interesting changes to the Correction Factors. Just for reference, I sail off of 0.91 and Bob Tuohy's old 10 Rater sails off of 0.93. The competition is improving.
.
Well it was supposed to be a Marblehead/10 Rater day but they were swamped with Foci.
.
John Lykke, having the only Marblehead present, took all of the laurels in his class.
.
Likewise, Brian Pennifold took out the trophies for A Class boats.
.
As a massed fleet, the Line Honours winner by two points was Graham Alcock with his Focus. It could have been a lot closer had John Lykke been able to stay for the last two races. As it was, John took second place from Bob Dare by two points.
.
I should point out that John Lykke and Brian Pennifold were sailing the long course while the rest sailed the short course. And they all started off of the same gun.
.
Further back was Brian Pennifold and then Jason Benn.
.
Although it looks like Jason got a drubbing, he was not that far off the pace. A few (?) navigation errors and penalties knocked him back a bit. However, in Race 4 the times were Graham Alcock 10:29, Bob Dare 10:37 and Jason Benn 10:48. He's getting there.
.
.
Corrected Time also saw Graham Alcock at the top of the pack with Jason Benn only two points behind.
.
Then there was a gap until Brian Pennifold elbowed Bob Dare off of the podium by one point.
.
The handicap was not kind to John Lykke.
.
.
If the one meters are looked at separately, Graham Alcock won on Line Honours and Corrected Time.
.
Bob Dare was close behind on Line Honours and Jason Benn was close behind on Corrected Time.
.
.
.
As a result, Graham Alcock's Correction Factor jumped from 0.73 to 0.83. That'll teach you.
.
Jason Benn went from 0.64 to 0.71. This puts him in the neighbourhood of the lower Foci.
.
.
It was a beautiful day to be at the dam.
We paid good money to repair the road and so we should use it. Please don't go making your own tracks when coming in or leaving. Stay on the road between the gate and the big gum tree just to the West of the shed. Remember :-
.
ROADS ARE FOR CARS
.
GRASS IS FOR COWS.
.
Thank you.
.
You bewdy, a stern chaser. Unfortunately the wind was real patchy at times and results turned out to be a bit of a lottery. As usual, the wind improved just as the last of us had packed up and were leaving.
.
We had a surprise visit from Rex Eckert. It was good to see him even though he wasn't there long enough to get into a slanging match with Bevan. And he didn't have a bag of Killer pythons. Or, if he did, he wasn't sharing them. 
.
And the winner was..........Geoff Smith. Good one Geoff. The first and second places in the last two races dragged you across the line. It's a good thing that you didn't leave when you were supposed to.
.
Bevan Newman and Bob Dare have been running neck and neck over the last few meetings. Bevan got this one but I'm sure Bob will be out after him come Wednesday.
.
John Amos had a better day now that he is keeping the dam out of his boat. Well done, John.
.
I was doing fairly well until my battery died and my boat decided to tease me by circling just out of wading range. At least the water is warmer than it was a couple of weeks ago. Quite pleasant.
.
Brian Pennifold was the first home of the long coursers. I had expected them to catch up in the rankings as the day went on, but the conditions were against them.
.
Geof Rice had a few gear hassles. I think he has a pretty good handle on what to fix and he should put in a stronger showing in coming weeks.
.
Bob Tuohy and John Lykke  were knocked by the conditions as was Brian.
.
Graham Alcock had to leave early. We're not sure whether it was for crabs, fish or deer. It couldn't have been to mow the lawn that has been untended while he was swanning along the Queensland coast.
.
We had another good Wednesday turnout, five Foci, a 10 Rater and an IOM.
.
The wind was on the cusp of an A/B rig for an IOM for most of the day. If you picked one or the other you would have been wrong for the next race. $5.
.
I gave a provisional result that was actually incorrect. Bob Tuohy changed from short course to long course part way through and threw everything out of kilter. To balance things out, I threw Bob's scores out. He was only there for a day out anyway.
.
Congratulations to Bevan Newman on taking Line Honours.
.
Bob Dare decided to be cheeky and withdrew from Race 10 to dust off his DF95. Unfortunately that put him one point BEHIND Bevan, not one point ahead as per the provisional scores.  Oops.
.
Geoff Smith dailed better than is apparent from his line honours third place, considerably behind Bevan and Bob on points.
.
David Hyde put in all of his usual stunts, stalling, sailing backwards etc. and still managed to be only three points behind Geoff.
.
Graham Edwards was sailing a bit more consistently, which is the nice way of saying that he averaged about fourth place on all of his non-discard races.
.
Jason Benn brought the fleet home on what was only his second sailing day and managed to bump Graham, David and Geoff at various times.
.
.
Jason Benn's first outing gained him a correction factor of 0.45. This aided him in bringing off a straight run of firsts on Corrected Time and hence first place. Don't get used to it. Your correction factor took a big hit and jumped to 0.64. By comparison Graham Edwards is on 0.68. You won't get it so easy next time.
.
Bob Dare reversed his position with respect to Bevan Newman.
.
All of the Wednesday crowd sailed pretty well to their correction factors with only minor changes with the exception of Jason.
.
Well done all.
.
.
I won't put the whole list up, just those that moved as a result of last Wednesday.
.
Look at Philip Scapens' correction factor. That has crept down due to lack of racing. I'll have to amend that.
.
This was a day probably best forgotten by most. At times we would have been better off fishing.
.
Scoring was on paper, thank you Roger, and so there is no Corrected Time.
.
David Martin tore away with the A Class racing. He was so successful that he had to discard one of his first places. Well done David.
.
Meanwhile Brian Pennifold and myself thrashed it out for the bronze medal. Ultimately I got it and Brian had to be content with the silver.
.
.
There was stiff opposition amongst the Marbleheads with Grant Murray eventually coming out on top.
.
John Lykke ran in for second place - one point ahead of Bob Watson.
.
Bob Watson put the only blot on Grant's score sheet by beating him in Race 2. Unfortunately it became a discard for Grant.
.
.
Bevan Newman and Bob Dare represented the Foci. Bob's wins in the second and third race weren't enough to topple Bevan. Good competition guys.
.
.
Bob Tuohy campaigned his battered old war horse and showed that it still had the spirit to fight. He produced a sterling run of firsts, marred only by a DNF in Race 4. Old boats rule!
.
.
Excellent sausages as usual, and brilliantly cooked and presented. Our Kitchen Rules.
.
Based on the information that I had to work with, I believed that David Martin was the cause of Bob Watson's retirement from Races 6 and 7. Bob Watson told me a week later that he wasn't disabled by the collision with David's boat and so David's retirement is nullified.
.
The amended Line Honours results are below.
.
.
And the amended Corrected Time results.
.
.