We had a good day for the Marblehead/10 Raters. The breeze started out firm and tailed off towards the end of the day.
.
Bob Watson wanted to trial his new 10 Rater against Bob Tuohy's. They raced a separate course from the Marbleheads and even started one of their races separately. Hence the null result in Race 6 on Corrected Time. Things were pretty close until Bob Watson did some 'fiddling with his rig' and ran well into the end of the day. And not once did he retire to the dam wall to spectate!!
.
Congratulations to Bob Watson for the first place and Bob Tuohy for pushing him along the way.
.

.
Bob Tuohy got his revenge on Corrected Time. So close!
.

.
The Marbleheads presented a real spectacle with three beginners mixing it with two gun sailors.
.
Despite a long break from sailing and scrambling ANOTHER Tx/Rx set-up, Grant Murray, Muzza, forced John Lykke to a tie.
.
Congratulations to John Lykke for taking the gold on count-back.
.
Great work grant Murray for taking the silver on your return. Race 8 may have made all the difference if you hadn't parked on the Starthalbyn buoy.
.
Meanwhile, the tyros weren't letting the guns have it all their own way. Third place on the podium went to Bob Dare who managed to pip John Lykke in one race.
.
Not far behind Bob Dare, Geoff Smith and David Hyde had their own battle going on. David hung in there and managed to snatch the wooden spoon from Geoff.
.
In all, the three tyros (The Three Amigos?) put up a good performance in their step-up from Focus sailing. Good work guys and keep it up.
.

.
The three tyros ran Correction Factors that were derived from the results of their first three races. As such they tend to be a bit erratic for the first day of sailing but settle down as more days of racing are completed.
.
Grant Murray sailed well, even in Race 8 up until he became intimate with the buoy, to take the gong on Corrected Time.
.
Geoff Smith managed to squeeze in between Grant and John Lykke on the podium. Well done Geoff.
.
Having decided that he had sufficient wooden spoons in his collection, David Hyde kept Bob Dare dangling until the count-back and Bob started his wooden spoon collection.
.
.
David Draper's performance in the Focus and Brian Pennifold's in the A Class were so overwhelming that it would be embarrassing to show the results. Suffice to say that they were the cream of their respective tops. Well done guys.
.
The new Correction Factors. There's a Stern Chase this weekend. Check out who you will be starting off with in the first race.
.
.
.
Due to brain fade on my part, the Focus Championship did not happen. I apologise to all Focus owners.
.
Competition for the Focus Chanmpionship will now be held on Wednesday 21 November and Saturday 24 November.
.
If any competitor wins both days, he will automatically become the winner.
.
If there are different winners on the two days, and either one of them only competed on one of the two days, there will be a sail-off on a day to be mutually agreed by those two winners.
.
If there are different winners on the two days, and both sailed on both days, the winner will be decided on count-back. If this does not give a clear winner, there will be a sail-off on a day to be mutually agreed by those two winners.
After the cancellation of the State A Class Title due to dangerous wind conditions, our alternate day came out nicely. The breeze varied from ideal to patchy. The ideal was generally between races, or during lunch time. The patchy was generally during races. Someone at the Bureau of Meteorology has a sick sense of humour.
.
Thanks to all who made the day possible - Stan Schofield (Patron), David Martin (Secretary and Measurer), Steve Arthur (PRO), Graham Alcock (Assistant PRO and Score Keeper), David Draper (Assistant Score keeper), Graham Parr (Chef and Site Repatriation Officer), Bob Tuohy (Cripple Transporter), the Club Committee and Members, Competitors and spectators..
.
We had some special guests for the day. Peter and Pearl Scapens had a day out. Grant Murray also came in for a squiz. Francesca Arthur came along for the drive and to keep Steve in line. Good to see all of you.
.
Tim Allard took out the day, again. Excellent sailing Tim and well done. He's obviously not sick of dusting that trophy yet.
.
Tony White took second place on the podium, a mere five points behind Tony. You made Tim work for it.
.
David Martin took a respectable third place on the podium.
.
Steve Rosenberg missed the podium by three points and started a bun-fight for the next few placings. Between Steve Rosenberg, Bob Whitehead,Peter White and Ross Eldridge there was a mere separation of 10 points. If you throw David Martin into the mix, there were only 13 points between third and seventh place. Great work guys.
.
Terry Smith got in the tuning day that he had planned for the previous day, but it was blown out. I still say that this was the practice day for the real competition. I just have to wait 12 months.
.
Brian Pennifold continues to carry the flag for the A Class fleet. He is a fixture in these boats.
.
Jeff Watson decided to retire in order to get races re-started more quickly. He felt that he was holding things up by being late finishing. You should have stayed Jeff. With the variation in breezes you had to get suitable ones for your boat at some stage.
.
Not seen on the result sheet, due to not starting was the other Watson, Bob. His steering tiller arm broke during the warm ups. After walking around to retrieve his boat, Bob and Bob Tuohy formed a spectator crowd on the dam wall. Bad luck, Bob.
. 
.
In all, a great day and I thank all of you.
.
Round three of the A Class Club Championship, at last.
.
The breeze didn't look too promising at first but it came up OK for a lateish start. Nothing special there. Just about all of our starts are lateish.
.
The sausages were cooked to perfection by Chef Bob. Not Tuohy. Not Watson. Bob Dare. Don't tell his missus because she thinks he can't cook.
.
Competition was very close at the top end. Congratulations to Tony White with a golden gong by virtue of count-back. Well done Tony.
.
Well done too to David Martin who was relegated to the silver gong by that same count-back.
.
Peter White took the bronze gong by trailing the two guns by a mere three points. Peter was hampered by a heart attack, but a quick servo swap got him back in business. Peter was assisted by Tony in the open-heart surgery to get his boat back in business.
.
Top sailing on the podium.
.
Steve Rosenberg sailed well but was handicapped by the electronic umbilical...........otherwise known as a 'smart' phone. If it was that smart it wouldn't ring when something as important as sailing was in progress.
.
Bob Watson went astray around about Race 4 when he called his day off due to an insurmountable problem. He then complained that we didn't wait the start for him while he was repairing it. I honestly thought that he had packed it in for the day. Sorry Bob, had I known of your change of intentions I would have waited for you.
.
I was jinxed. I missed one day of the series when my jib track pulled away from the deck. I missed another day when the hook for the aforesaid track pulled itself out straight. This time Mr Gob-Off Peter White put the mozz on me by asking how long I would last before the jib came adrift again. If there had been a sweep running on it, the prize would have gone to whoever predicted Race 7 as my last race. On inspection later, it was the jib swivel that had broken. I expect the fittings up on the mast will start going next.
.
.
What with doing the scoring and starts as well as racing, I forgot to start the clock on race 2. Hence I had no times to correct and that race was left out of the Corrected Time.
.
Despite the 'smart' phone, Steve Rosenberg came out on top. Well done Steve. With the lead that he had, he must have been sailing reasonably well above his Correction Factor with respect to Tony White. Steve had to bolt off right at the end of the last race. He had to go home and let Cosmo and Gracie (the indoor zebra) out for a nature run.
.
Peter White must have been above his norm as well with the gap that he had over Tony White who currently has the top Correction Factor. Well done Peter.
.
Tony White barely escaped being tangled up in a three way wrangle for the next place. He was still on the podium though. Well done Tony.
.
David Martin and Bob Watson had a hard fought battle not to be the one with the next worse score to me. David Martin scraped ahead on count-back. Bad luck Bob
.
Me got the daily double on the wooden spoons. I'm saving them up for a full dining setting.
.

.
Racing finished just at the right time. The last race was a real drifter. Had we started another race I reckon we'd still be trying to get over the start line.
.
We finally got a decent day for sailing. The schedule was for a Sternchaser but you would have thought that it was a Marblehead day. They all came out of the woodwork. I think someone must have been doing spring cleaning in their shed. I just wish I could get my shed clean enough to start spring cleaning.
.
Bob Dare started out slowly but came booming home to take the day. Well, not exactly booming. He only just beat Peter White on count-back.
.
John Lykke made third place by beating Bob Tuohy on count-back.
.
Geoff Smith was running a C? rig. He was besieged with advice from all quarters and managed to win the last race. He also got another first, and a second earlier in the day but couldn't quite find the sweet spot again until it was too late.
.
David Martin and Geof Rice suffered the same fate. Snarled up winch lines.
.
It was a great day, very entertaining. At times it got a bit intense - the silence was deafening. I believe that this may have been due to Bob Watson sailing at the State Titles. If the wind had been a bit more Northerly, rather than our Westerly, we may still have heard him from Hart's Mill. I hope you had a good day Bob.
.

I've just finished doing the new Correction Factors for the A Class yachts from the 01 SEP 2018.
.
Tony White, not having a Correction Factor with his new boat, sailed on a CF calculated from the first three races 0.94. As it turned out, this made him the gun sailor for the day.
.
David Martin sailed insufficient races to have his CF modified, but for the first two races he sailed a 0.91 against Tony's rating.
.
All of the other sailors were within 0.05 of their CF from the start of the day.
.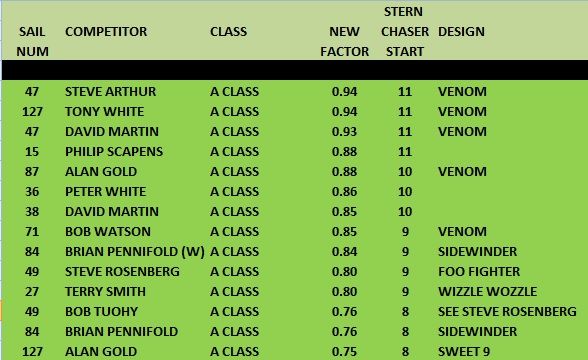 I'm only 10 days late. Stop picking on me.
.
I've been busy. SHE decided that we needed a new washing machine, dishwasher and wall oven. Boy, have I racked up some brownie points. Just wait until SHE sees my next boat(s).
.
Tony (Tim) White showed a clean pair of heels for a clean sweep on Line Honours. Any cleaner and he would have fluoresced.
.
Philip Scapens put in a steady effort for his second place ahead of Peter White. Not a lot in it though.
.
Bob Watson missed the podium by two points.
.
Brian put in a steady day as the safety boat.
.
David Martin had a minor catatrophe (can you have a minor catastrophe?) with his winch lines and had to withdraw.
.
Terry Smith had a major catastrophe with his foredeck fitting and didn't even make it to the start line. Oh dear.
.

.
Bob Watson redeemed himself on Corrected Time and knocked Tony White back to second.
.
Peter White bumped positions with Philip Scapens.
.
And Brian Pennifold sailed the safety boat.
.

.
POPCORN, PEANUTS, getcha TOFFEE APPLES heeyar. It's show time.
.
And sausages.
.
And I believe that there will be some largish boats on the water.
.
Ah well, back to the vagaries of weather. After the Marblehead/10 Rater was called off a couple of weeks ago due to heavy weather we re-ran it this Saturday in a drifter.
.
The quickest drifter was John Lykke. Well deserved John after being the only one to turn up for the blown-out competition day.
.
Bob Watson followed John around the course in a haze of blue language.
.
Despite making it onto the podium, David Martin now has another boat for sale.
.
Roger Hartley made a re-appearance. My belief was that the series was for Marblehead/10 Rater. As such I will let this result stand pro tem. This will all be clarified before the next race in the series.
.
Bob Dare managed to struggle in just ahead of The Green Machine. Actually it was a bit more than just ahead. I really must get an A rig at some stage. The B rig just doesn't cut it for drifters.
.

.
Congratulations to Roger Hartley on taking out the Corrected Time.
.
John Lykke stood down one step on the podium from his Line Honours result.
.
Bob Watson just missed John Lykke by one point. That's probably why these two are together with very high correction factors. And stern chaser starts.
.
David Martin wasn't far off the pace from the two hotshots. 
.
Bob Dare was awful close to David for a first  effort.
.
I did reasonably well in the races that I finished.
.
.
The fleet racing was like a mack Sennett comedy. Four boats and every one of them won at least one race. This result was assisted by the first five races only having one finisher.
.
GEOFF SMITH took Line Honours with a clean sweep of firsts until Brian Pennifold commenced finishing races.
.
Brian Pennifold came second. A few less DNS/DNF would have swung the balance. It is great to see an A Class drifting along on momentum when the breeze drops to zero.
.
Bob Tuohy in fourth place would also have been assisted by more finishes. Both Bob and Brian beat Geoff in the last two races.
.
Philip Scapens won a race and then quit on a high note. It's a pity you couldn't have stayed longer Philip. It was good to see Mr Magoo back on the water.
.
.
On Corrected Time both Geoff and Brian retained their places from the Line Honours.
.
Philip Scapens and Bob Tuohy tied for third place, but Philip won on count-back by having more firsts. And that was in the only race he sailed. Bad luck Bob
.
The 22nd was a lovely day for sailing. I wouldn't have wished to be anywhere else. Apart from the booby trap.
.
Of the mixed fleet, congratuulations went to Bob Tuohy sailing his new IOM. New for Bob anyway. It is John Lykke's old boat and it did them both proud.
.
Graham Alcock was right on Bob's hammer.
.
Bob Watson cunningly ran a C rig in order to suck everyone into a false sense of security.
.
Bob Dare with his new Marblehead/10 Rater thought he was going great guns until it was pointed out that Bob Watson was running a Marblehead C rig against his 10 Rater A rig. He was still going well regardless.
.
Michael Roden was getting used to Bob Dare's Focus, while Roy Shelton ran a few races with his Monsoon.
.
David Hyde only had his Focus in the water long enough to set a trap for the Troopy.
.

.
Graham Alcock took out the Corrected Time comfortably. 
.
Michael Roden scored well to come in just ahead of Bob Tuohy.
.
Then there was a bit of a gap until Bob Watson pipped Bob Dare. 
.
Roy Shelton suffered from early retirement but was doing well up until the Monsoon ate its' mainsheet.
.
David Hyde deserved to come last for being mean to Troopy.
.
,